My Book has been Released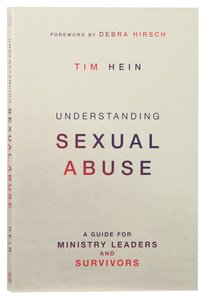 My book, Understanding Sexual Abuse: A Guide for Ministry Leaders and Survivors, was released yesterday.
I wrote it to provide a clear and accessible introduction to understanding the complex trauma resulting from sexual abuse. It draws heavily on the latest research and expert opinion on trauma, as well as theological reflection on related questions of justice, forgiveness, and suffering. It's also very practical, with lots of examples, principles, and hints. It is also grounded in personal experience.
I very much hope both survivors and Christian ministry leaders find it a useful and helpful guide.
Foreword by Debra Hirsch
Introduction
1. A Safe Place
2. Why Abuse Hurts
3. Breaking the Power of Secrets
4. What Does Recovery Look Like?
5. Justice, Anger, and the Question of Forgiveness
6. Where Is God?
7. A Broken Hallelujah
8. Choosing Life
You can purchase it now from Amazon, Book Depository or Christian bookstores. More information is available via the US publisher, IVP or the UK/Europe publisher, Muddy Pearl. It is also available as an audiobook from Audible or Christianaudio.
Reviews & Endorsements:
"This is such a timely, wise and important book. Tim Hein reflects and writes with the painful authenticity of personal experience of sexual abuse, as well as deep Christian conviction and wide understanding, in order to empower survivors to find healing and to enable pastors and churches to understand how they can help them in realistic and loving ways. He engages with the difficult questions, the pathologies and the limitations which he and other survivors and pastors encounter. It's a moving, mature, challenging and hopeful work which should be readily available in every Christian church, and which anyone engaged in pastoral work will learn much from." – The Very Revd Dr David Ison, Dean of St Paul's Cathedral, London
"There are other helpful books on surviving sexual assault, but none with as much wisdom and heart as Understanding Sexual Abuse by Tim Hein. A survivor himself, Tim intersperses his own beautifully told story of healing throughout this extremely practical and biblical look at how to survive abuse and how to help those who've been abused. This book is a gift." – Michael Frost, Morling College, Sydney
"Understanding Sexual Abuse is a book I will return to repeatedly. The lessons Tim conveys are lessons that are relevant to survivors of all kinds of trauma – not just sexual abuse, but any form of abuse, coercion or control. And they are relevant to all those who sit beside those who are in pain: whether as a spiritual companion, offering prayer ministry, as a counsellor or pastor, or simply as a welcoming friend." – Dr Peter Sidebotham, Paediatrician, Spiritual Director and co-editor, Child Abuse Review.
"Only recently have survivors and Christian leaders had access to quality treatments of sexual abuse stories that do not hide from therapy or God! I felt like I was sitting in a safe place across from Tim, listening to his wisdom and sharing in a survivor's grief. Understanding Sexual Abuse is disarming in approach and creative in its mission. Here's a great tool to help struggling survivors in their healing journey." – Andrew J. Schmutzer, professor of Bible at Moody Bible Institute and author of Naming Our Abuse: God's Pathways to Healing for Male Survivors of Sexual Abuse
"This book brings together Tim Hein's insights as a thoughtful educator, pastor, theologian, and survivor of child sexual abuse. This is a courageous book. Tim vulnerably shares his story of trauma and pain and his ongoing journey toward healing. He doesn't pretend to know exactly what other survivors have experienced but instead offers his insights in ways that show understanding of the multiple impacts of abuse on survivors and offers pathways of support and healing. Survivors of abuse will find sources of healing and hope in this resource. This book is a gift to people engaged in Christian ministry. Tim draws from trauma research and biblical, theological, and pastoral foundations to equip Christian ministers to offer compassionate, careful, and well-informed support to survivors." – Dr Deidre Palmer, President-elect, Uniting Church in Australia
"Before this book was even finished I knew it must be written – that Tim's story needed to be told for it contains a powerful and needed witness. Written both from personal experience and with a pastoral touch, this is a healing, wise book for victims of sexual abuse, those who love them, and anyone leading in Christian churches or ministries today." – Mark Sayers, Senior Pastor of Red Church, Melbourne, Australia, Author of Disappearing Church and Strange Days
"This book is a courageous gift, arriving at just the right time … No Christian leader can answer the call of ministry today and not be informed about this … This is a constructive book, navigating the issue with clarity. It it also a courageous book that unpacks the elements of complex trauma and is bold enough to tackle the question of suffering. And – despite the difficult subject – it is a safe book, an essential pastoral resource." – Debra Hirsch, Author, Speaker and Church Leader